1. Introduction (free) 2. Materials Overview (free) 3. Ceiling-to-Wall Connections 4. Ventilating Rafter Bays 5. Attic Knee Wall 6. Sealing Ductwork 7. Soffits and Chases 8. Ceiling Electrical Boxes 9. Holes for Pipes and Wires
---
RELATED DETAILS
---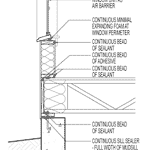 Thermal Bypass Checklist
package (50+ details).
You can see when I pull back the tape, it easily comes off. And you can see the adhesive is sticking to the pipe and not bonding to the tape any more. I'll pull all of the tape off at each of the joints. Because of the residue left by the old duct tape, I'm going to have to use a less-than-preferable method. If this were a new installation, I'd use aluminum tape that has an acrylic adhesive on the back side. It's a lot more durable and long lasting than ordinary duct tape. Because there is contamination from the old duct tape residue on the joints, I'm not going to be able to get a good bond between the aluminum tape and the ducts themselves.
I'm going to use duct mastic, which is the messier method. It's usually used with a HVAC system, but it's also good to seal up ducts for exhausts venting from a bathroom fan. We have some joints that are weak, so to begin the process, I'm going to reinforce them by wrapping regular fiberglass tape around the joint. The tape will help reinforce the mastic so that the combination of the fiberglass tape and the mastic will hold it all together.
Mastic is essentially a paste. I could apply it with a paint brush and sacrifice a brush, but I find globbing it on with my hands while wearing gloves gets a better contact and seal. Neatness doesn't count. It's just a matter…